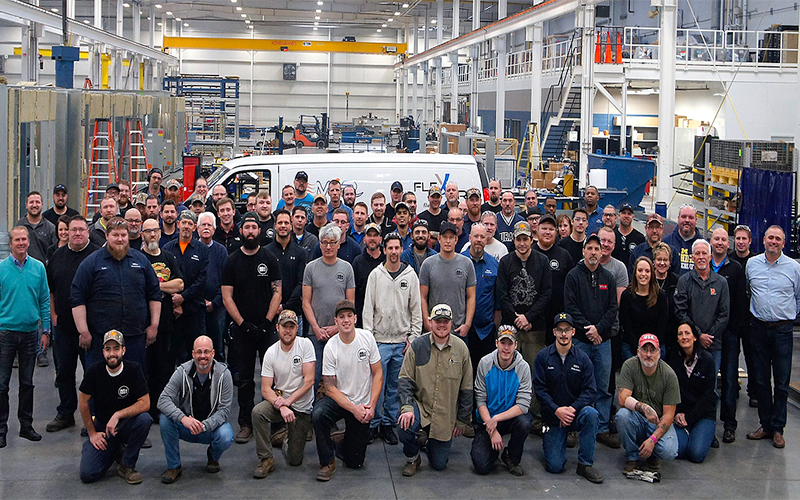 At Miller Industries, it's all About Family …
Bo Schembechler, the late University of Michigan football coach, achieved all of his athletic success because he believed in "The Team, The Team, The Team." Tom Miller of Miller Industries, LLC (Mi), has achieved business success by believing in "The Family, The Family, The Family."
When I first approached Tom, he mentioned that his wife, Nancy, was the real reason behind his success. (More on that subject later.) Miller Industries completed the construction of a brand-new 106,000-square-feet plant on Thompson Road in Fenton Township, opening in November 2016. That new white building houses Mi, which is the parent company of Performance Fabricating, Flex Air, and Miller Industries Representatives, LLC. The entire operation is owned by family; the five principals are Tom Miller, 67, founder, father and grandfather, semiretired; son Chad Miller, 42, in charge of all operations; son Matthew Miller, 45, in charge of all sales operations; son Michael Miller, 37, in charge of all information technology; and daughter Jennifer Sage, 48, in charge of finance.
This Horacio Alger–like story began in 1968, when Tom and Nancy got married during their senior year at Flint Southwestern High School. Tom worked 12 hours at GM Assembly Plant on Van Slyke Road until 4 a.m., then attended high school classes the next day. In 1969 he transferred to a position in the inspection department at GM Metal Fabricating at a salary of $630 per month. Shortly thereafter he began selling welding equipment for National Welding Supply on Dort Highway.
But first, to learn about the products, Tom learned how to weld. "Learning how to weld would serve me well later in life," he adds. In 1977 he went to work for Roy Smith Company in Detroit selling welding equipment, becoming its top salesperson within three years.
"My first sales order was for $125,000 and I haven't looked back."
– Tom Miller
In the late 1970s, for safety and environmental reasons, the welding industry required smoke collection equipment. Tom went to work for Specified Design in Flint. His first sale was to GM. Within four years at Specified Design, Tom had sold over $5.5 million in equipment and along the way learned how to run a business as well as how not to run one. One of his first commission checks was for $40,000.
In 1981, after a dispute over business ethics, Tom left to pursue other interests. Six months later Specified Design filed for bankruptcy; however, GM still needed the equipment, so Tom started his first real business.
"My first sales order was for $125,000 and I haven't looked back," he says. In 1982 TMI was incorporated and in 1984 it moved into a 12,000-square-feet building on Baldwin Road.
"I would call on GM for sales during the day, work on blueprints at night and return the next day to turn in a bid for GM's work," Tom recalls.
TMI grew tremendously over the next few years, selling and making equipment for customers in Michigan, throughout the country and even in Dubai. Its orders ranged from building a parts hopper for $1,000 for an individual up to a single contract for $26 million.
Tom states, "Success is a combination of luck, breaks and most importantly good people working for you." TMI was owned for 35 years with the belief that "we are a true family-first organization that understands and practices that family is first." Building on that concept, he believes that most employees want to work for a family-owned business. In fact, while working for Tom, if an employee needed time off for a family event, work time could be made up later. Tom practices the "happy wife is a happy life" motto.
TMI was sold in 2008 to one of the world's largest investors, Berkshire Hathaway. The family continued working there until 2013, which met the five-year noncompete clause with the new owner.
Through Chad Miller's efforts in the purchase of Performance Fabricating and an entire-family agreement to get back in business, Mi was formed in July 2014 because "Our old customers contacted us to reconnect and do business again," Tom explains.
State Sen. Joe Graves hoped to develop the Thompson Road corridor, starting with Mi. So with a $9.1 million investment by the Miller company and $1.4 million in infrastructure monies from the Michigan Department of Transportation, the Genesee County Road Commission and Fenton Township, the building and subsequent roads were completed.
Mi specializes in custom steel fabrication, air supply systems and sales, representing numerous companies in engineered heating, ventilation and air conditioning solutions. Mi products include conveyor systems, structural steel projects, helipads, stairs and platforms, baggage handling systems, product racks, air handling systems, among many other metal products. A powder coating paint department will be added soon. These products are sold to automotive, health care, data center, and institutional customers worldwide. They include GM, Ford, Chrysler, Peterbilt, Johnson Controls and Durr Systems. On a tour of the new plant, I observed a vehicle delivery lift assembly system being built for Chrysler; it was a large project. In fact Mi is growing so quickly that it has informed the state of Michigan that it will need to hire additional employees.
Now back to Nancy: wife, mother, grandmother and woman behind the man. Tom states, "She helped me with all aspects of the business even during tough days, while she was raising our four children." Early on Tom was out of town on business much of the time, even on holidays.
"I had comfort in knowing that she took care of all family issues. She kept the family together; she never tolerated dissension, even among our 12 grandchildren. Family is everything. Now we are together for all major holidays." My three-hour interview with Tom was cut short when Nancy informed Tom that they had to leave to attend a grandson's basketball game. The Family, The Family, The Family.